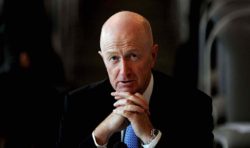 The Reserve Bank of Australia Governor, Glenn Stevens, has a few thoughts on predicting the economy's future.
To understand the business future, Glenn Stevens urges us to pay less attention to small changes in forecasts and more attention to 'the big forces at work'.
Here are the 10 big ideas Stevens thinks will matter in the next decade:
1. China's growth will slow, but China 'will still be a big deal', partly because the Chinese economy is now so large.
2. India will start to figure more in the global economy – its working-age population will exceed China's within a decade and will keep growing as China's starts to shrink.
3. On balance, the US will remain the leader of global economic decision-making.
4. Services will keep making up a larger share of most economies – that is, manufacturing, mining and agriculture will continue to be relatively less important.
5. Jobs might be robotised – but we may need that. 'Demographic factors suggest strongly that, all other things equal, the problem isn't going to be a shortage of jobs but, instead, a shortage of workers'.
6. Digital disruption will continue. In some parts of the economy, it will be'faddish and no great aid to productivity', but in others it will force 'fundamental changes to business models'.
7. Business models that make money from customer information will do well, at least until customers stop handing over their information – so 'the issue of trust will be key'.
8. IT security will matter more as people come to understand the risks involved. 'Maybe IT security will need to get as inconvenient as airport security and more costly – a whole new meaning of the term 'digital disruption'.
9. Global interest rates will probably stay very low for 'a good part of the decade ahead', and rate rises will be gradual.
10. The struggle to provide good retirement incomes 'will become ever more prominent', partly because investment returns will stay low.
Extract from CPA Australia Ltd. INTHEBLACK